Prime Time for Cloud as Core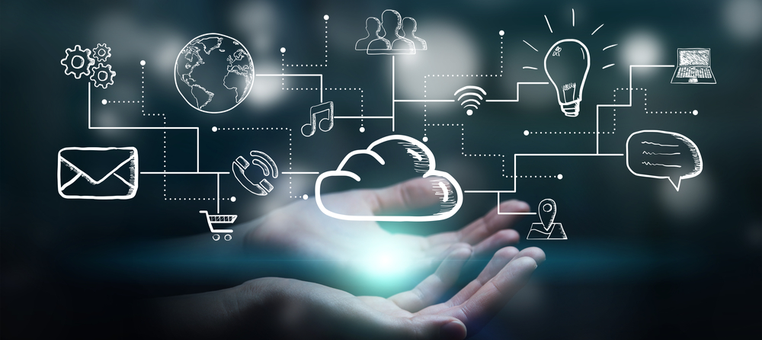 Legacy ERP and the digital stalemate
Cloud migration began a decade or so ago, primarily with non-mission-critical cloud services that addressed specific needs, such as web service tools, email/collaboration tools, app development/testing environments, etc. More recently, braver, forward-looking organizations began adopting cloud services for specific functions, such as sales force automation, talent management, and customer relationship management.
By and large, organizations were hesitant to move core, mission-critical ERP systems into the cloud. As a consequence, many core enterprise systems today – think of the ERP boom in the '90's – are flirting with overdue replacement cycles and/or upgrades, extensive and expensive customizations, rising maintenance costs, and, most critically, a lack of flexibility needed to meet today's changing business demands.
Digital transformation is now in full swing – an enterprise-wide, mainstream endeavor mandated by Boards, supported by C-level execs, and executed continuously by IT and business users working hand-in-hand.
It has become abundantly clear that piecemeal edge innovations of the past are no longer adequate. In fact, it is too often the case that these well-meaning, one-off projects ultimately add to the complexity problem.
The ultimate end-goal of digital transformation is to become an intelligent, nimble organization capable of adapting to constant change and continually enhancing the customer experience. This means having in place a secure and scalable cloud-based core capable of harnessing the power of all current and future disruptive technologies. Only a re-envisioned IT architecture that leverages cloud technologies can streamline end-to-end processes, provide analytical capabilities, empower teams with individualized customer insight, support new business modes, connect to business networks, and most importantly, give you a single source of truth.
The legacy, on-premise ERP systems still in abundance today are too costly, too complex, and rightly perceived as static and incompatible with the transformational goals of present-day companies.
It is prime time for organizations of all sizes and across industries to embrace the cloud as their core.
ERP ascends to the cloud
As the backbone for most companies, ERP is indispensable – integrating all data and processes of an organization into a unified system, driving key business processes, providing enterprise-wide reporting capabilities, and supporting decision-making at all levels.
Driven by a desire to better contain the costs and complexity of ERP, as well as the need to improve flexibility and responsiveness, a growing number of businesses are looking to the cloud. General consensus among industry pundits is that cloud ERP will be the norm within 5 to 10 years.
Key benefits of migrating ERP to the cloud include:
Fast implementation time
Quick access to functionality
Capex vs. Opex. savings – reduced IT efforts and costs because both hardware and software operation and maintenance are the provider's responsibility
Flexibility due to subscription, rather than licensing, contracts
Cost-efficient scalability by way of "pay-what-you-use" concepts
Today, ERP's ascension to the cloud is well under way. According to Statista, the global cloud ERP software market is projected to grow to $40.5 billion by 2025, from $14.7 billion in 2018, at a CAGR of 13.6%.
In a recent survey, more than three-quarters of respondents said they've already made the move or plan to do it soon. The top benefits cited include:
Staying current on technology: 81%
Usability benefits: 76%
Increased flexibility: 65%
Economic benefits: 63%
Improved collaboration: 59%
Beyond savings
Cost savings are what most business leaders focus on when considering migrating ERP to the cloud – probably because TCO is readily measurable. According to a study conducted by Nucleus Research, the average expense for companies to set up their on-premises ERP systems—including software, hardware, consulting, personnel, and training—is about $8 million. Setting up ERP apps in the cloud, according to Nucleus Research, costs just $2.6 million.
Operational costs for on-premise ERP are also higher than cloud ERP. According to Nucleus Research, cloud reduces ERP operational costs by more than 50%.
While these very real and measurable monetary drivers for cloud ERP adoption are compelling, at AST, we believe that infusing our customers' businesses with the core transformational power that only cloud ERP can deliver yields the greatest value by far, and should rank first in green-lighting a cloud ERP initiative.
According to a recent APQC survey, 76% of business leaders said their current ERP system is unacceptable due to a lack of usability. This level of dissatisfaction with a core technology that plays such a vital role in day-to-day operations is completely unacceptable. Period.
Though more difficult to quantify, the ability to adapt to change, make accurate, real-time, data-driven decisions, expand quickly into new markets, accelerate innovation, and monitor the entire business from a single cloud platform are real-world benefits that trump mere cost savings.
Trust in Oracle and AST for your core-to-cloud journey
Oracle ERP Cloud is a complete, innovative, proven, and modern suite to manage accounting, financial planning, procurement, projects, and more. Its functional breadth and depth support organizations of all sizes and across all industries. A highly-scalable architecture makes it perfect for large, complex, global, and transaction-intensive industries, and embedded analytics with role-based dashboards enable data-driven decision-making at all levels. Native contextual social collaboration and mobile accessibility add to Oracle ERP Cloud's transformational power.
Oracle ERP Cloud includes complete ERP capabilities across Financials, Procurement, and Project Portfolio Management (PPM), as well as Enterprise Performance Management (EPM), and Governance Risk and Compliance (GRC). Together with Supply Chain Management (SCM) and native integration with the broader Oracle SaaS portfolio for Human Capital Management (HCM) and Customer Experience (CX), Oracle offers customers a practical, business-driven, rapid adoption path forward.
Oracle ERP Cloud was named a Leader in Gartner's most recent "Magic Quadrant for Cloud Core Financial Management Suites for Midsize, Large and Global Enterprises", while Oracle was also positioned in the Leaders quadrant for the 2018 "Magic Quadrant for Cloud Financial Planning and Analysis Solutions" and in the 2018 "Magic Quadrant for Cloud Financial Close Solutions." Most recently, Oracle ERP Cloud has been named the only in Gartner's Magic Quadrant for Cloud ERP for Product-Centric Midsize Enterprises.
Oracle ERP Cloud is designed for incremental cloud adoption, which lets customers move to the cloud at their own pace in phases that fit their business model and operational needs. To help make the migration process easier and faster, existing on-premise customers can leverage Oracle's 'Customer 2 Cloud' Program, which enables them to use current support spend to redirect elements of their installed on-premise solutions to Oracle Cloud. For companies and government agencies required by law or regulatory constrictions to keep data on site, Oracle's 'Cloud at Customer' program provides all of the features, benefits, and pricing of cloud delivery via a "cloud machine" that lives in the customer's data center.
There is no cookie-cutter tool for migrating ERP to the cloud. Each company has its unique ERP environment, market forces, corporate objectives, industry imperatives, customer expectations, and enterprise IT priorities — which is why, at AST, we provide a prioritization framework along with an arsenal of best practices, pre-built templates, project accelerators, and above all, the deep industry and business process expertise needed to guide our customers along their unique ERP cloud migration journey.
Laggards beware — Oracle ERP Cloud is sure to be a disruptive force in the years ahead, giving first movers and early adopters a significant competitive advantage not easily matched.
Contact AST today and let our Oracle ERP Cloud experts put the power of a cloud core to work for your business.