AST Named 'Top Workplace' for Third Consecutive Year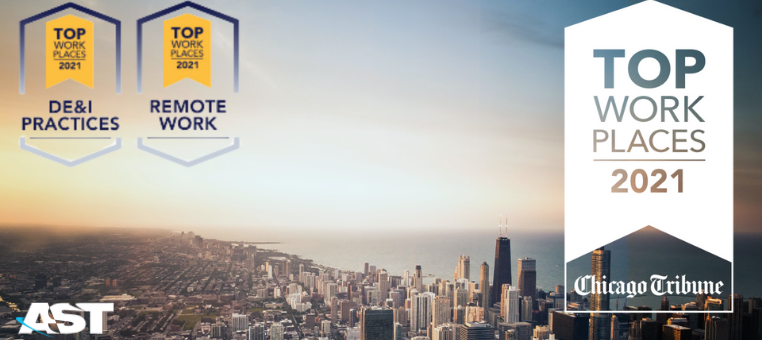 Lisle, IL November 5, 2021: AST today announces that it has been named by the Chicago Tribune as a Top Workplace for 2021. This is the third consecutive year that AST has received this recognition. AST this year has also been awarded the Top Workplaces National Culture Excellence Award for Diversity, Equity, and Inclusion Practices and the Top Workplaces Award for Remote Work by Energage.
These awards further display AST's commitment to putting its people first. "It is an honor to be awarded three Top Workplaces awards along with the distinction of recognizing AST's cultural excellence," states Justin Winter, CEO at AST LLC. "I am incredibly proud of our team for their commitment to the One AST vision. Together we have fostered an inclusive, welcoming, and positive workplace for all employees to grow personally and professionally.
These Top Workplaces awards are testament to that." AST fosters a culture of inclusivity and innovation at every level of the organization with guiding leadership tenets: Teamwork, Trust, Accountability, Integrity, and Resiliency. All doors are open, and everyone's ideas matter, giving AST's people the ability to quickly understand the needs of customers and translate those needs into action.
The results reveal AST's strengths and reflect its Core Values of Quality, Innovation, and Customer Success. "Our promise is to support an inclusive, inspiring, and innovative culture at every level in the organization. My team and I continuously enhance our people strategy to ensure we meet the needs of the entire AST Team. We will continue to transform AST to the next level, creating the future of how we work," pledges Teresa Stanula, Vice President of Global Human Resources at AST. Read the full press release here.
About the Top Workplaces Program
Top Workplaces is a nationwide employer recognition program, powered by Energage, that seeks to identify and recognize organizations with a people-first culture. Top Workplaces are defined based on compensation, benefits, work-life balance, coaching, and prospects. With regional and national programs, as well as cultural excellence and industry awards, the Top Workplaces program honors people-driven organizations that ensure a workplace where employees can grow. The Chicago Tribune recognizes Top Workplaces in the Chicago metropolitan area. Top Workplaces are evaluated based on an employee survey created with extensive research and patented analytics.
About Applications Software Technology (AST) LLC
AST is an award-winning, full-service enterprise solution provider, guiding digital transformation for clients in the Government and Commercial Sectors for more than two decades. Clients look to AST for leadership and assistance in transforming their organizations via software solutions, process engineering, and change management. From cloud technology to legacy on-premises applications, AST's services encompass all aspects of SaaS, PaaS and IaaS. AST also offers flexible Managed Services, supporting the needs of over 200 customers around the globe.