Straight to the Source: A User Panel Discussion About Autonomous Testing for Oracle Cloud Apps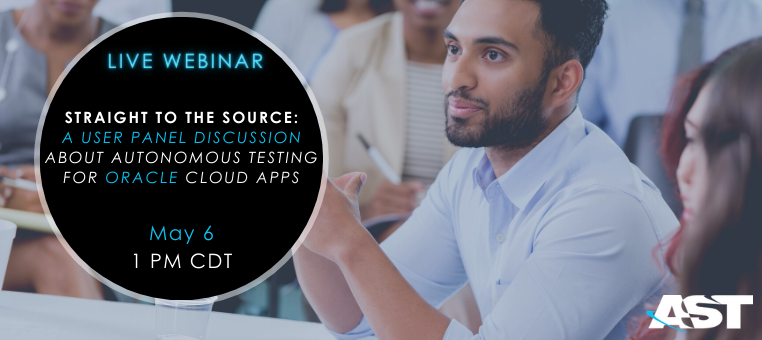 As an Oracle Cloud Apps user, have you ever thought, "What's the deal with these quarterly updates?  Why are we spending so much time on this and what are we really getting out of it?" 
 You're not alone.  In fact, most Oracle Cloud users feel like they're spending way too much time manually testing their applications for each monthly or quarterly release, leading to inefficiency across the organization and increasing waste of time and money. 
 Attend our interactive user panel discussion on Thursday, May 6 to get straight to the source and hear how our customers are drawing true business value from new releases with AST Autonomous Cloud Testing.  We'll be joined by the following professionals from across industries: 
M

ichael Jamison

, Deputy CFO at the City of Detroit, MI

 

Ross Ballendine, 

Director

 of

 Information Technology at Calfrac Well Services

 
R

aheem Seecharan

, 

Director of Information Technology at the City of Hollywood, FL

 
Attendees will hear these real users of the solution tell us about: 
What life was like for them before automated testing

 

What the process was like to stand up the automated testing solution

 

The cost and time savings they've realized since automating previously manual testing

 

What their resources are doing for the organization now that they're not spending time on manual testing activities

 

Any advice they would give to those evaluating an automated testing tool

 
The implementation of a single, but powerful tool will accelerate your release cycles to a matter of hours (not weeks!) and lead your organization to realize: 
Greater user adoption of new features and updates

 

I

ncrease

d

 efficiency

 with users able to refocus their attention to high-priority tasks

 

90% faster detection of defects

 

Reduced 

costs

 

M

aximize

d

 ROI

 for Oracle Cloud Apps

 

Accelerated digital transformation across the organization

 
Don't take it from us.  Let our customers tell you how AST's Autonomous Cloud Testing solution has become force multiplier for productivity and modernization across their organizations.   
 Register today to reserve your spot!