Mike Mullane of H&P Visits AST for ARB Meeting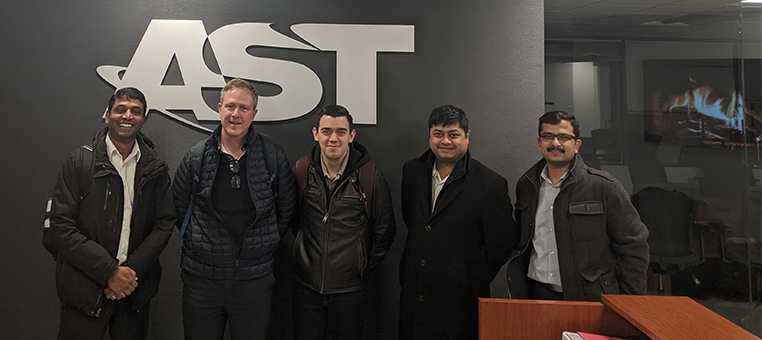 On January 15 Mike Mullane, an Applications Systems Administration Manager at H&P, visited AST to attend an Architecture Review Board meeting. The ARB team is a multi-disciplinary team with top Architects from various areas such as Enterprise Integration, Web Architecture, Security, and Content Management. The purpose of the ARB review meeting was to validate the design for H&P's project. Team members presented high-level requirements and key design elements to the team.
The design review validated base practices and covered both intended and unintended consequences of the chosen design. The team approach brings a wide breadth of experience and deep technical expertise with the individual technology components and areas of specialization for each Architect.
The ARB Meeting was a very successful and engaging collaboration. It was also the longest ARB session at 3 hours 45 mins! Afterwards, the group celebrated by enjoying dinner together at Cooper's Hawk.
"I had the opportunity to attend AST's Lisle, IL offices for an Architecture Review Board (ARB) in early January of this year. AST is our chosen implementer to design and create a solution to automate the provisioning of users to Oracle Cloud services.
The purpose of my visit was to join the AST team for the first review of the design of the solution. AST coordinated the ARB meeting with a dozen AST employees present in the conference room and no less then three other team members on the phone. We had the usual round the table introductions followed by the facilitator announcing to the group that our job was to ask questions. And we were reminded that all questions and considerations should be voiced.
I was first impress that all involved took this seriously and asked challenging questions of one another, the security architects, and of me, the customer. The meeting originally scheduled for an hour and 45 minutes went for over 3 hours. Through this discussion, I believe that the result was a much better design. And several questions that needed to be followed up on.
I felt that traveling to the AST office for the ARB was well worth the investment of my time and my companies resources to send me. I had the opportunity to meet the team that would be working on our project, see the initial design and to provide my feedback and help shape the outcome.
The biggest surprise for me was to witness a healthy company culture that really promotes teamwork. Through this teamwork, I believe the solution AST build's for us will be the best solution available." – Mike Mullane, Applications Systems Administration Manager at Helmerich & Payne, Inc.