Empower Enterprise-Wide Reporting with Oracle Data Relationship Management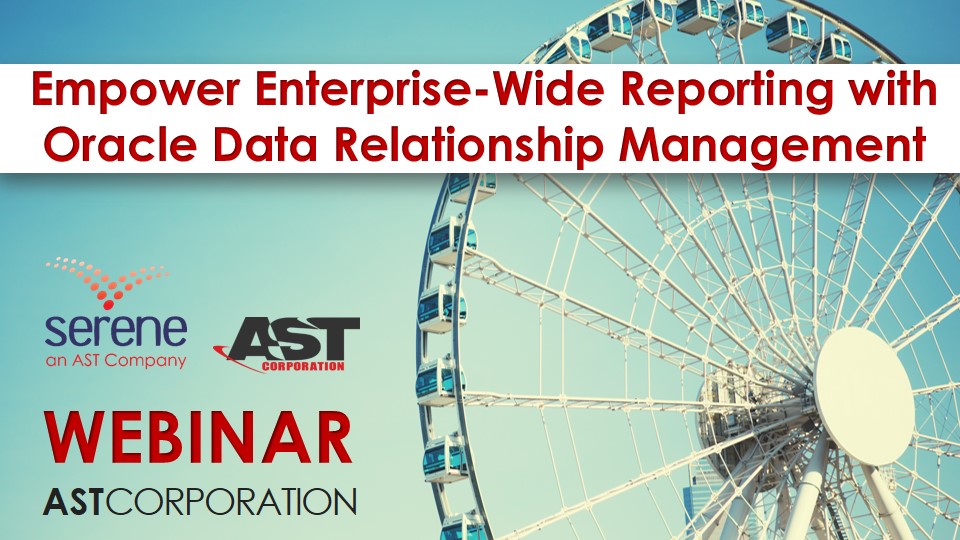 Can you imagine a world in which an organization's data warehouse and data marts were aware of new GL accounts and cost centers before they were active in the GL? How valuable would a monthly financial close process be that included automated reconciliation processes be for your organization? Would you like to eliminate your IT team's constant struggle to keep lookup and data translation tables current as your organization grows?
Many would consider these goals to be "impossible pipe dreams", but there is proven technology already in use by many of the largest and most successful organizations in the Fortune 500 to meet these very goals.
Join AST for a free webinar next Thursday, February 18, at 1:00 PM CST and learn how to empower your enterprise-wide reporting and increase consistency with Oracle Data Relationship Management (DRM) and Data Relationship Governance (DRG). These state-of-the-art products provide centralized services for the mastery and governance of financial, enterprise, and departmental hierarchies, reportgin dimensions and related mapping attributes. They enable modeling of reporting measures and selection criteria in a single application framework that synchronizes reference data across transactional systems and reporting environments.
Whether your goals are enterprise-wide or you wish to start small with a departmental win, this webinar will highlight the capabilities and best practices that will get you there. Please join us to learn more about Oracle DRM and DRG.