AST Team Successfully Completes Oracle Chatbot Training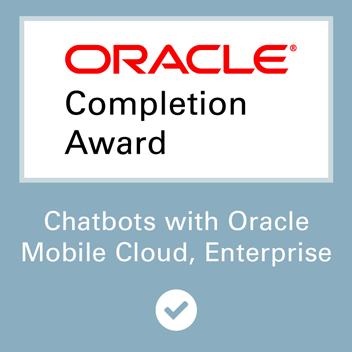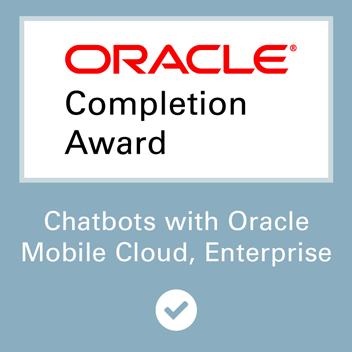 Oracle Mobile Cloud Enterprise is a unique industry offering in that it combines both cross platform mobile development and chatbots into a single comprehensive offering.  Developers can create a chatbot in as little as a few hours and integrate it with various messaging platforms or mobile apps.
Our team recently attended and successfully completed Oracle's Online Training on Chatbots, learning the ropes of how to build a chatbot and how to best model use cases for maximum customer engagement.  It was exciting to explore the use cases and we hope to showcase some of these in the near future.  In the meantime, you can view this excellent video series on how to model and build your own chatbots!
AST's Integration team members who attended the Oracle Chatbot training earned completion badges after successfully finishing the training exam.  Congratulations to Sanjay B., Ankit C., Ankesh A., Jignesh P., and Shirish K.!
If you're lost on where to start with chatbots or wondering how they can help you better engage with customers, let us know!  We can help you!