2020 IT Predictions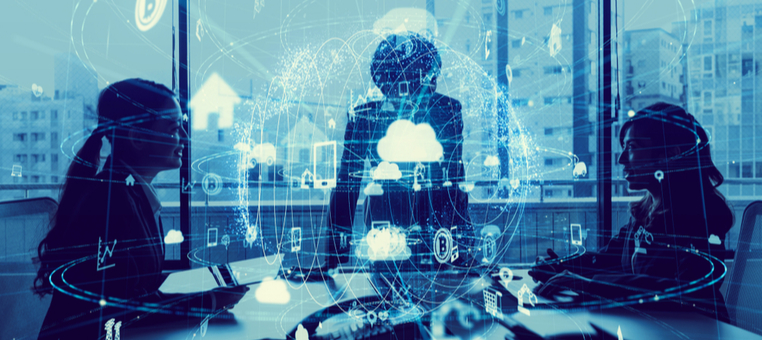 Disruption is the new normal
Putting it plainly, disruption is the new normal. It is not something that 'might' impact your business somewhere, somehow down the road. Disruption is in full swing right now, and it's taking a toll on your business today. The only question remaining is: What are you prepared to do about it?
More than one-third of executives in a recent Forbes Insights/Treasure Data survey say they are being directly affected by competition from digital and data-savvy players in their markets. In fact, a majority of executives (51%) say the risks of digital disruption are high, and many are already feeling the impact.
Digital transformation tops all
Digital transformation is not optional – it is the commitment every organization must make to ensure its very survival. Advances in digital technologies have forever altered the playing field, and all organizations are under constant threat from faster, smarter, more nimble competitors including startups who are leveraging technological advances to streamline processes, reinvent business models, win customers, and grow market share. Disruption is rampant and no one is safe – it's just the reality of business today.
Accordingly, digital transformation spending will approach the $2 trillion mark in 2022 for a 16.7% CAGR, according to IDC, and 30% of Global 2000 companies will allocate 10% of revenue to digital strategies by 2020. Moving forward, by 2023, digital transformation spending will grow to more than 50% of all IT investment from 36% today, according to IDC, and by 2024 nearly 50% of cloud computing software spend will be tied to digital transformation and will account for nearly half of all software sales, IDC reports.
IT spending stable
Spending on information technology in the year ahead is projected to remain stable, with possible uptick.
Gartner projected worldwide IT spending to total $3.7 trillion in 2019, an increase of 0.4% from 2018. The research firm forecasts growth of 3.7% in 2020.
More optimistically, IDC puts the worldwide IT spend at $5.1 trillion dollars in 2019 (5.2% YoY growth), rising to $5.3 trillion in 2020 (5.6% YoY growth). 
IT budgets increase
The good news is that IT budgets in 2020 are going up, with 44% of businesses (up from 38% in 2019) reporting that their IT budgets are going to increase an average of 18%, according to Spiceworks.
Cloud spending soars
Cloud computing has been the most exciting and disruptive force in the tech market in the last decade, and it will continue to disrupt traditional computing models through 2020 and beyond.
As the primary driver for cloud adoption shifts from economics to innovation, leading-edge companies are stepping up their investment in cloud services to accelerate digital transformation and lay the foundation for re-imagined business processes and new competitive offerings.
The worldwide public cloud services market is forecast to grow 17% in 2020 to total $266.4 billion, up from $227.8 billion in 2019, according to Gartner. Software as a service (SaaS) will remain the largest market segment, which is forecast to grow to $116 billion next year due to the scalability of subscription-based software. The second-largest market segment is cloud system infrastructure services, or infrastructure as a service (IaaS), which will reach $50 billion in 2020. IaaS is forecast to grow 24% year over year, which is the highest growth rate across all market segments.
According to IDC, worldwide spending on public cloud services and infrastructure will more than double over the 2019-2023 forecast period, with a five-year CAGR of 22.3%. Public cloud spending will grow from $229 billion in 2019 to nearly $500 billion in 2023, IDC predicts.
Managed services tame complexity
Given the urgency, complexity and skills shortage surrounding cloud migration, an increasing number of businesses are looking for service providers with the requisite expertise, experience and resources to guide their cloud migration strategy, host their applications and provide the end-to-end managed services needed to accommodate dynamic business requirements and aggressive growth goals.
The cloud managed service landscape is becoming increasingly sophisticated and competitive, Gartner reports. In fact, by 2022, up to 60% of organizations will use an external service provider's cloud managed service offering, which is double the percentage of organizations from 2018.
Pundits concur on the strong and growing market for cloud managed services:
MarketsandMarkets predicts the cloud managed services market size is estimated to grow from $35.54 billion in 2016 to $76.73 billion by 2021, at an estimated CAGR of 16.6%.
According to Technavio, the market for cloud-based managed services will have a 20% CAGR from 2016 to 2020.
Cloud security gets serious
Traditional perimeter-based security tools do little to protect cloud workloads. Securing data and applications that reside in the cloud is increasingly critical as more mission-critical apps and high-value data and intellectual property move to the cloud. Accordingly, experts predict strong spending on cloud security over the years ahead:
MarketsandMarkets expects the cloud security market to grow from $4.09 billion in 2017 to $12.73 billion by 2022, at a CAGR of 25.5%.
The cloud security market will grow from $1.5 billion in 2017 to $3.5 billion in 2021, according to Forrester.
Integration remains a top challenge
Integration is one of the most strategic initiatives an organization can invest in today. It is at the heart of differentiated customer experiences, empowering organizations to unlock valuable data across legacy systems, cloud apps and devices to make smarter, faster decisions. Yet, many organizations still struggle to implement integration strategies that speed up innovation, increase agility and put customers front and center. According to recent research, 80% of IT leaders believe their company will lose revenue within the next 12 months if they don't complete digital transformation initiatives, and over half (53%) list "systems integration" as a top three IT challenge.
Transformation experts needed
There is no cookie-cutter template for digital transformation. Every organization is unique in its purpose, mission, goals, challenges, opportunities and level of digital maturity.
The key is to understand that becoming "digital" is not a one-project wonder – it is a journey.  And as with any journey, it is important to have a guide along that has been down the path before, knows where the risks are and that can show you the most efficient way to get where you are going based on well defined roadmap.
A good partner like AST will help you conduct a thorough, top-to-bottom analysis to identify strategic objectives and create a prioritization framework. Building a detailed roadmap complete with foundational needs, technology components and projected outcomes — which are measurable and deliver meaningful value.
Contact AST today to learn how our cloud experts and systems integration excellence can help guide and manage your organization's transformation journey in 2020!