CPQ – Vital to Manufacturing eCommerce in the B2B2C Age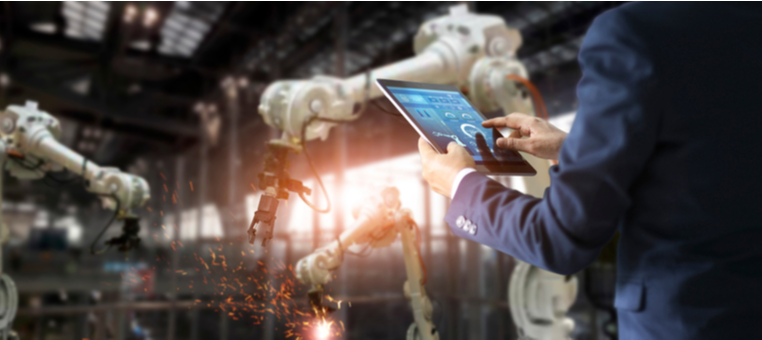 Manufacturer disrupted
An uncertain macro-economic and geo-political climate, Brexit, trade wars, ever-changing regulations, complex, global supply chains, fierce global competition, skilled labor shortages, demanding customers, and ever-shifting customer tastes… Welcome to the world of manufacturing: a dynamic, volatile, pressure-filled sector during the best of times.
Add to this today's pace of digital revolution, and it's no wonder that 'transform or die' is the prevailing mindset among manufacturing executives. According to a recent study by Fujitsu, 90% of manufacturing professionals report the sector has already been impacted by digital disruption, 95% admit their business needs to evolve to thrive, 90% believe the industry will fundamentally change by 2021, and 52% say their business will not exist in its current form in five years' time.
Suffice it to say that for manufacturing today, change is the only constant, disruption is inevitable, customers are in control, and the stakes are high.
Smart factories, the disruptors of manufacturing, are coming—at a pace faster than expected just a few years ago. Using embedded sensors and integrated software to collect and analyze massive volumes of plant operations and supply chain data, smart manufacturers can create real-time adjustments that not only change planning, procurement, operations and maintenance for the better, but also pave the way for new business models and revenue streams.
In the smart factory, resources and processes across the entire value chain are automated, integrated, monitored, and continuously evaluated based on all available information. In doing so, factories are transformed from cost centers into sources of innovation, sustainable competitive advantage, and profit.
Today's connected factory is already unrecognizable from its industrial past, and leading manufacturers are making bold investment bets to keep up with the rapid pace of this change. As reported in Forbes, one leading analyst firm notes that 76% of manufacturers either have a smart factory initiative that is ongoing or are working on defining one.
While survival is certainly a strong motivator in and of itself, measurable and meaningful increases in productivity and revenue are also driving smart factory investments. According to IDC, as reported in Forbes, smart factories will enable a 7x increase in overall productivity by 2022. Moreover, they have the potential to add $500 billion-$1.5 trillion in value to the global economy in five years. Yes, that is trillion.
It all starts with harnessing the power of big data surging through today's manufacturing operations. Powering smart factories are technologies such as cloud, mobile, robotics, social and business networks, RFID, embedded sensors, blockchain, industrial Internet of Things (IIoT), digital twins, AR/VR, and big-data analytics, among others.
Transition challenges
No one ever said transformation was easy. In fact, for manufacturers, transitioning to a digital enterprise is proving particularly difficult. According to IDC, by 2018, just 30% of manufacturers investing in transforming the digital operations of their businesses will reach their full potential; the majority will be constrained by outdated business models and dated technology.
Standalone legacy, homegrown, and even paper-based systems are the norm in manufacturing environments. Hybrid landscapes have evolved through company acquisitions, divestures, product expansion, and specific process/system requirements, creating complex, cost intensive environments, but maintenance of outdated IT architecture requires time and money, keeping IT from focusing on what truly matters: the modern digital initiatives that produce a competitive advantage.
Another challenge is harnessing the power of big data. The promise of big data is both compelling and straightforward — crunch large data volumes (operational, transactional, structured, unstructured) to unlock insights (correlations, trends, outliers, etc.) that inform timely decisions that boost efficiency, the bottom line, and competitiveness. The majority of today's manufacturers are drowning in data, but starving for insight. Despite all the data that factories collect, up to 73% of the data collected on the manufacturing floor goes unused, reports Forrester.
The rise of B2B2C ecommerce and the ascendency of CPQ
Today, consumerization in the workplace, cost and competitive pressures, strong customer demand for an easy, convenient, and simplified purchasing experience, and the potential for tapping new revenue streams collude to create a definite inflection point for ecommerce adoption by manufacturers. Every passing quarter we are seeing more and more manufacturers opening up or expanding on ecommerce channels that serve their B2B and, increasingly, B2C customers.
The demand for multi-channel B2B2C ecommerce is huge in manufacturing and will continue to grow in the years ahead. Manufacturers not advancing on the ecommerce front are doomed to irrelevancy and, ultimately, insolvency, as their customers jump ship in droves for competitors that provide tightly integrated, highly personalized online sites that are well designed, easy to use, and that enable them to quickly find exactly what they need at a very competitive price.
To attract and retain today's 'consumerized,' digitally-immersed, social-media connected buyers, manufacturing organizations must work quickly to offer customers, suppliers, and partners a robust, integrated ecommerce infrastructure and state-of-the-art, omni-channel frontend anchored by an advanced configure, price, quote (CPQ) solution.
CPQ's sweet spot has always been high-dollar, high-value, highly customizable products or services. Purveyors of such products and services, particularly manufacturers, have long since embraced CPQ. Now, with B2B2C ecommerce blossoming, CPQ has achieved 'must-have' status for manufacturers.
Most importantly, by placing engaging, easy-to-use configurators directly into your customer's hand, CPQ strengthens the customer relationship. Customers feel empowered to design products that fit their precise needs and budgets.
Along with virtual configurators, advanced CPQ features such as digital assistants, guided selling, price optimization, and dynamic quote generation positively impact sales team effectiveness and customer satisfaction.
A cloud-delivered CPQ solution touches various silos within a business throughout the selling cycle, making for a unified and seamless experience that satisfies customers' needs and expectations, eliminates errors, reduces sales cycles, drives supply chain efficiency, and grows revenue.
Perhaps equally important, CPQ enables quick response manufacturing (i.e., shortening the order to ship time from days and weeks to hours). As manufacturers transition from building single products in mass quantities to a more responsive, customer-driven, quick-response, mass customization model, success hinges on having the fastest fulfillment at the lowest cost and highest quality. As has always been the case, customer satisfaction is equally vital to success. CPQ delivers on both fronts.
Given this value, it is no surprise that the CPQ market is booming. Gartner estimates that market revenue for configure, price, and quote software was approximately $878 million in 2016, with growth of 20% per year expected through 2020.
At its core, digital transformation is about capitalizing on the relationship between technology and customer behavior, and leveraging disruptive technologies to close the gap between businesses and their customers. Cloud CPQ epitomizes this potential and provides a wealth of opportunity for forward-looking, customer-centric manufacturers.
Contact AST today to learn how our CPQ experts can help your manufacturing organization improve margins, crush sales goals, and cement customer loyalty.