Process Mining for Transformation Gold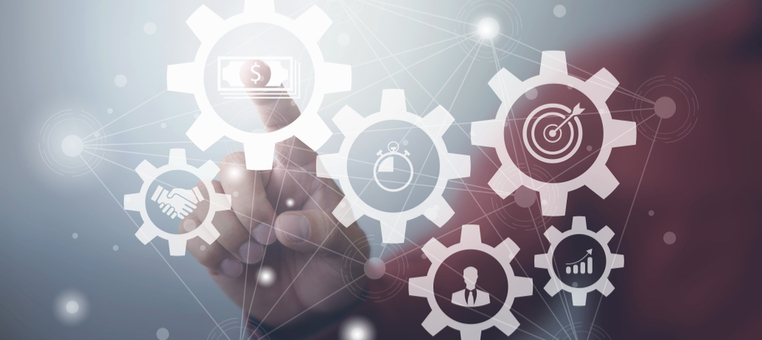 The high cost of business process complexity
As complex IT ecosystems have become the norm due to mergers and acquisitions, constantly evolving technology, and regulatory environments, critical business processes invariably span multiple technology systems. These disjointed technology silos make it difficult for enterprises to optimize end-to-end processes.
Though organizations realize they need increased visibility and control of their business processes, they struggle with orchestrating and monitoring those processes across mainframe, servers, the public/private cloud, and back again.
Failing to have a single, consistent view of performance, capacity utilization, and potential bottlenecks that degrade execution is a recipe for disaster.
Here's a snap shot of the high cost of business process complexity:
What is process mining?
In a nutshell, process mining is the analysis of business processes based on data stored in IT systems (databases, transaction logs, audit trails, etc.). A relatively new analytical discipline, process mining is comprised in equal parts of big data analytics, machine learning/AI algorithms, and data visualization tools. The objective of process mining is straightforward enough — to improve process efficiency, but the inherently complex and dynamic nature of business processes makes achieving this objective easier said than done. In fact, it is precisely the mind-numbing complexity of today's business processes, and the waste and inefficiency this complexity engenders, that drives the strong demand for process mining today.
Here's how process mining works. Pretty much without exception, all business processes are supported by IT systems. As standard practice, these systems capture detailed information about each step conducted in the execution of a process (e.g., case ID, activity name, timestamp, etc.). Collectively, this information is known as a 'digital footprint'.
Leveraging the digital footprint stored in your IT systems, process mining provides an objective, comprehensive, fact-based visualization of business processes as they actually operate in your organization. By applying big-data analytics and machine learning algorithms, process mining enables in-depth analysis of business processes, helping companies across industries realize meaningful and measurable benefits, such as cost savings from removing bottlenecks and decreasing cycle times; lower risks by detecting non-compliant processes or fraud; and continual process improvement by enabling quick-and-easy comparisons of new process models to "As-Is" processes.
At bottom, process mining is a fast, non-disruptive way to make business processes more transparent, faster, and more cost-effective while ensuring maximum transparency and oversight. Whether your goal is to increase automation rates, minimize manual intervention and rework activities, eliminate inefficiencies and errors, or check for compliance, process mining delivers the fact-based insight you need to understand how processes really work (or don't) in your business.
Why process mining is vital to digital transformation
As reported in Forbes, by 2018, 67% of the CEOs of Global 2000 enterprises will have digital transformation at the center of their corporate strategies. However, according to a recent survey, only 50% of companies are successfully executing on their digital transformation strategies, despite demonstrated efforts and investments.
This disconnect brings into clear relief the need to apply a more rigorous, strategic focus to digital initiatives. Evolving technologies, lack of leadership, lack of internal alignment, skills shortage, and cultural resistance are all factors contributing to digital misfires. There's also the daunting question of where to start. While a one-off project, probably led by shadow IT in a rogue business unit, lacks gravitas, a complete business-model overhaul is probably beyond your reach, and more than your Board could stomach.
At AST, we understand that becoming "digital" is not a one-project wonder. We also understand that few enterprises can afford the time and resources of a complete business model transformation. For these reasons and more, we strongly advise our clients to hitch their digital transformation initiatives to the business-process workhorse.
As the engines of work activity, business processes are essential to transformation. They move workers forward in their daily jobs, help propel strategic initiatives, and perhaps most importantly, provide the framework to make and implement business decisions.
The key to a successful digital business strategy, AST maintains, is to focus on reimagining specific business processes – from the customer to the core – to simplify and enhance customer interactions. The results are quick and attainable. Organizations see how business insight can best be leveraged to achieve the greatest impact across the entire value chain, creating a clear path to achievable business results.
Historically, attempts to identify kinks in business processes proved costly, time consuming, and inadequate. Expensive consultants, extensive process documentation, tedious manual investigations, and sketchy KPIs might correctly identify that a process is broken, but all too often they reveal little about why, where, and what corrective actions might be taken.
Conversely, process mining is a fast, efficient, and affordable way to get a comprehensive view of processes, identify process variations, drill down to find the root cause of problems, and begin building new process models.
Process mining is a valuable, perhaps indispensible, tool for gaining the accurate understanding of business processes necessary in order to re-imagine how these processes might be automated, remodeled, or eliminated in your quest to gain meaningful and measurable business value from digital initiatives.
The fact that process mining is non-disruptive, industry agnostic, applies to businesses of all sizes, and can be applied to virtually all important business processes certainly adds to its growing relevance and popularity.
MarketsandMarkets reports that the global process analytics market size is expected to grow from 185.3 million in 2018 to USD 1.4 billion by 2023, at a CAGR of 50.3%.
According to Gartner's recent "Market Guide for Process Mining", the process mining market is expected to at least triple in size over the next two years.
Process mining and a friction-free customer journey
Business processes are essential for any organization to function properly. Order-to-Cash, Procure-to-Pay, Plan-to-Produce, Request-to-Service, as well as processes driving CRM, HR/HCM, and Finance must be in place for a business to achieve its growth objectives and service its customers.
Too often, business processes are predominantly viewed in terms of their internal function in a business. The truth is, core business processes are the foundation for a company's ability to service its customers, and most forward-thinking organizations apply process mining as an input to customer journey mapping to help automate customer experiences.
Effective customer engagement can only be delivered in the absence of organizational silos and where the underlying processes are consistently integrated and add value to customers. A process mining capability can highlight and quantify the business impact of inefficiencies and inconsistencies that hamper a positive customer experience.
Improving customer experience is the No. 1 driver of IT investments in the year ahead, according to CIO's State of the CIO study. It is not incidental that improving the customer experience is also the prime objective of any intelligently-conceived digital transformation initiative.
Although process mining is a nascent-stage discipline, it is growing rapidly. A selection of commercially available process mining software solutions includes ProM, Disco, Celonis Discovery, Worksoft, Perceptive Process Mining, QPR ProcessAnalyzer, and Aris Business Process Analysis. This list will most assuredly grow in the years ahead as businesses worldwide step up efforts to eliminate complexity and waste in today's hypercompetitive digital economy.
In addition to utilizing the leading process mining solutions, AST also works with clients to evaluate, understand, and improve how customers conduct business with your organization. Following this assessment, we help you understand the degree of friction your customers are experiencing across channels, how that amount of friction compares to your competitors, and what actionable steps you can take to improve the experience.
Process mining is a great tool for evaluating business processes in the context of a digital transformation initiative. Beyond the low-hanging fruit of wringing inefficiency and cost from a business process, digital mining brings into sharp focus how a process impacts your customer and, more importantly, how it might be re-envisioned to improve your customer's experience.
Contact AST today to learn how our business process experts can accelerate the pace and increase the value of your digital transformation game plan.