2019 IT Spending & Cloud Predictions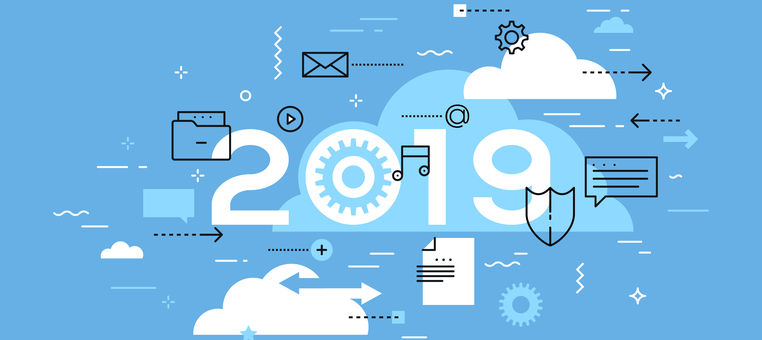 IT budgets get a boost in 2019
Worldwide IT spending is projected to total $3.8 trillion in 2019, an increase of 3.2% from expected spending of $3.7 trillion in 2018, according to the latest forecast by Gartner.
IT budgets include everything from computers and servers to software, apps, cloud services, web hosting, maintenance, cybersecurity, telecommunications, audio visual equipment, outsourcing, consulting, travel, and of course, IT staff.
In a recent study, Deloitte Insights found that companies spend, on average, 3.28% of their revenue on IT. Banking and securities firms spend the most (7.16%) and the construction industry spends the least (1.51%). The study found that of high-performing companies (those that consistently outperformed the S&P), 57% increase their year-over-year IT budgets.
According to the CIO Tech Poll: Tech Priorities 2019 research, 57% of CIOs expect their technology budgets to increase over the next 12 months.
Research conducted by Spiceworks revealed that 89% of more than 700 IT buyers in the US and Europe reported that they expect their budgets to grow or remain stable in 2019. More significant is the data showing that 56% of large companies (5,000 employees or more) are projecting IT budget growth. Only 6% of all companies – mostly smaller organizations – are predicting reduced budgets.
IT spending priorities
Technology priorities are constantly changing based on the tools that organizations have implemented throughout the past year and the current needs of the business.
At 64%, the need to upgrade outdated IT infrastructure is the biggest driver of IT budget increases in 2019, according to Spiceworks.
Here are a few additional key data points on IT spending in 2019 from Spiceworks:
Spending on software (26% of budget) and cloud (21%) are expected to remain stable.
Hardware spending is expected to be down to 35% across all company sizes, but only 26% in big companies. (That includes desktop, networking, climate, and mobile hardware, not just data center equipment).
Large companies expect to spend 46% of their IT budgets on managed services and cloud/hosted services.
The 'CIO Tech Poll: Tech Priorities 2019' research highlights the following key areas for technology budgets and investments in the year ahead:
Organizations currently allocate 15% of their tech budgets to new tech companies, and 41% predict that this will increase over the next year.
Cybersecurity and cloud computing strategies are expected to see the largest increase in spending throughout the next year.
60% of IT leaders say that artificial intelligence (AI)/machine learning (ML) is considered to be the most disruptive technology, and 40% expect AI/ML to have a positive impact on their businesses in 3-5 years.
Emerging vendors must know how viable they are; and in order to demonstrate viability they should provide case studies and product roadmaps.
Who controls the IT purse strings? 
One mega-trend that's gathering pace in business is technology spending controlled by lines of business (LOB), rather than the IT department. LOB spending – often called 'shadow IT' – is set to overtake IT department spending in 2019 worldwide, according to analyst firm IDC. The LOB/IT split is currently around 50:50, but LOB spending has been growing faster than IT spending for several years and is forecast to be 6.9 percent versus 3.3 percent (CAGR) between 2016 and 2021. By 2021, only two of the 16 industries profiled in IDC's spending guide (construction and telecommunications) will still see their technology spending led by the IT department.
Digital transformation dominates
As reported in Forbes, by 2018, 67% of the CEOs of Global 2000 enterprises will have digital transformation at the center of their corporate strategy.
IDC said spending on technologies and services that enable digital transformation of businesses will hit $1.97 trillion in 2022. 30% of the Global 2000 companies will allocate 10% of revenue to digital strategies by 2020. Why? Business executives see digital transformation as a long-term investment.
On average, most organizations believe that half of their revenue will come from digital channels by 2020, as reported by ZDNET. Furthermore, the World Economic Forum estimates that the overall economic value of digital transformation to business and society will top $100 trillion by 2025 – not a shabby ROI!
Four industries will account for nearly half of the $1.25 trillion to be spent on digital transformation, according to IDC:
Discrete manufacturing will spend $220 billion on digital transformation in 2019. Innovation and supply chain will account for a lot of that spending.
Process manufacturing will spend $135 million.
Transportation will spend $116 billion with supply chain optimization and freight management leading the way.
Retail will spend $98 billion with an emphasis on omnichannel, e-commerce, new experiences, and next-gen payment.
Cloud spending to soar in 2019
Cloud computing has been the most exciting and disruptive force in the tech market in the last decade, and it will continue to disrupt traditional computing models through 2019 and beyond.
As the primary driver for cloud adoption shifts from economics to innovation, leading-edge companies are stepping up their investments in cloud services to accelerate digital transformation and lay the foundation for re-imagined business processes and new competitive offerings.
Here is a roundup of recent predictions by industry experts on cloud spending in 2019:
According to a Forrester report, clients stated that they plan to move as many as 80% of their applications to the cloud over a five-year timeframe. Nearly 60% of North American enterprises now rely on public cloud platforms, five times the percentage that did just five years ago.
The global cloud computing market, including cloud platforms, business services and SaaS, will exceed $200 billion in 2019, expanding at more than 20% over 2018, according to Forrester.
The worldwide public cloud services market is projected to grow 17.3% in 2019 to total $206.2 billion, up from $175.8 billion in 2018, according to Gartner.
Gartner predicts that cloud application services – or Software-as-a-Service (SaaS) – will remain the largest segment of the cloud market, with revenue expected to grow 17.8% to reach $85.1 billion in 2019.
The fastest-growing segment of the market is cloud system infrastructure services (Infrastructure-as-a-Service, or IaaS), which Gartner forecasts to grow 27.6% in 2019 to reach $39.5 billion, up from $31 billion in 2018.
By 2022, Gartner expects that 90% of organizations purchasing public cloud IaaS will do so from an integrated IaaS and Platform-as-a-Service (PaaS) provider, and will use both the IaaS and PaaS capabilities from that provider.
28% of spending within key enterprise IT markets will shift to the cloud by 2022, up from 19% in 2018, Gartner, reports.
Cloud Managed Services
Given the urgency, complexity, and skills shortage surrounding cloud migration, an increasing number of businesses are looking to Service providers with the requisite expertise, experience, and resources to guide their cloud migration strategies, host their applications, and provide the end-to-end managed services needed to accommodate dynamic business requirements and aggressive growth goals.
Pundits concur on the strong and growing market for cloud managed services:
MarketsandMarkets predicts the cloud managed services market size is estimated to grow from $35.54 billion in 2016 to $76.73 billion by 2021, at an estimated CAGR of 16.6%.
Cloud Security
Traditional perimeter-based security tools do little to protect cloud workloads. Securing data and applications that reside in the cloud is increasingly critical as more mission-critical apps and high-value data and intellectual property move to the cloud. Accordingly, experts predict strong spending on cloud security in the years ahead:
MarketsandMarkets expects the cloud security market to grow from $4.09 billion in 2017 to $12.73 billion by 2022, at a CAGR of 25.5%.
The cloud security market will grow from $1.5 billion in 2017 to $3.5 billion in 2021, according to Forrester.
Oracle and AST – delivering today's cloud
Customers in 195 countries are running their most demanding applications on the Oracle Cloud Platform, and organizations worldwide are turning to Oracle at record rates to build, deploy, and extend game-changing applications and run business-critical workloads in a low-latency, highly available, reliable, and secure cloud environment.
To sustain momentum in what is already the world's fastest growing multi-billion-dollar cloud business, Oracle and its partners, such as AST, will have to redouble their effort and investment in helping companies of all sizes and across industries step up their cloud migration initiatives.
Contact AST today to learn how our Oracle Cloud experts can help your organization embark on or accelerate your cloud migration journey.