End-user Focus, Key to Digital Success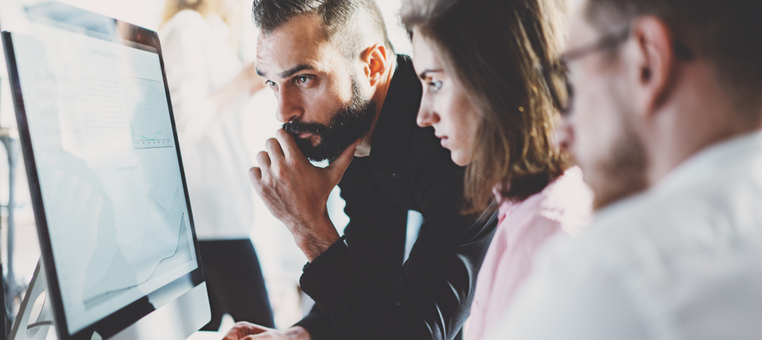 People – the prime movers for digital success
IDC predicted that by 2017, over 50% of the IT budget would be spent on new technologies and that by 2018, digital transformation would be a key strategy for 67% of the Global 2000. Moreover, by the end of 2019, spending on digital transformation will reach $1.7 trillion worldwide—up 42% from 2017, according to a new report from IDC.
The era of digital transformation currently underway underscores the essential and indisputable role disruptive technology now plays in business success. While digital excellence equates to the masterful utilization of cloud, mobile, social, and big data technologies across all areas of business, an exclusive focus on technology misses the very heart of what digital is meant to transform.
At its core, digital transformation is about putting people first. More specifically, it's about capitalizing on the relationship between technology and people, and leveraging disruptive technologies to close the gap between technological capability and human desire.
Technology has empowered us to choose how, where, and when to buy products and services. Customer-friendly leaders such as Amazon and Apple steadily raise our expectations for a superior, personalized, fast-and-efficient experience; Uber has made hailing a taxi nearly effortless; Airbnb has redefined travel lodging; Netflix has revolutionized discovering and watching movies… The list goes on and on.
No one likes wasting time on mindless, repetitive tasks. Like consumers, employees expect technology to make their lives easier, more productive, and more fulfilling. Regrettably, this ideal experience is a far cry from the reality we see when examining how employees and technology interact in business today.
Collaborative IT Investing
Working in the trenches of business, LOB execs occupy a strategic vantage point from which to identify where digital can have the biggest impact on customer satisfaction, process efficiency, and revenue growth.
Traditionally, technology purchase decisions have been driven by the CIO/CTO suite and implementation (or customization) was an IT-led endeavor.
Technological innovations in cloud, mobility, analytics, and IoT, coupled with streamlined procurement and deployment processes, are changing things fast and forever. Instead of relying on the IT department to handle everything relating to technology spending, LOB executives have learned to do more on their own.
Going forward, the new model for IT Investments is one of collaboration, co-dependence, and consistency. More LOB leaders will begin to assess how to handle their own technology needs without the traditional involvement of IT. As this model progresses, LOB leaders will need to determine how to balance the shorter implementation time, ease of use, and process standardization of a cloud solution with the broader enterprise level needs related to security, data governance, cross-application standardization, and maintainability, typically the purview of IT.
Calculating the real cost and true ROI of technology investments is complex; holistic, in-depth knowledge of enterprise IT architecture, business impacts, process efficiencies measures, SLA's, and other key considerations requires the involvement and expertise of both IT and LOB leadership.
The transformation to the cloud has added a new facet to what organization have struggled with for years: how to balance end-user demands for speed and agility with IT requirements for security, performance, and governance. The highly consumable nature and ease of use of digital technologies has shifted more IT purchasing power into the hands of business leaders, with IDC forecasting that by 2018, LOB executives will control more than 45% of all IT spending worldwide and more than 60% in the U.S.
Transformation Success
At AST, we understand how vital clear and thorough communication between IT and business end-users is to a successful business process transformation initiative, and we place great emphasis on having in place a team qualified to partner with both IT and business users.
When embarking on a digital business initiative, we advise LOB execs and CIOs to combine their focus on re-thinking end-to-end business processes – from the customer all the way into core systems, an endeavor that neither can successfully complete on its own.
Answering the following questions is a good place to start when building a sound digital business strategy:
What are your organizations' top priorities?
Increasing wallet share by improving customer engagement?
Driving costs and inefficiencies out of your processes?
Growing your organization's success through innovation?
Answering these strategic questions will help you identify the specific business processes to focus on, and enables you to put in place quantifiable customer-value objectives.
Important questions that naturally follow from this point include:
How important is speed and agility to these business objectives?
What internal and external information is needed to achieve them?
What internal and external information is accessible?
What existing systems will need integration and renovation as you move down this path?
What are the security and data governance concerns that must be addressed?
Last but by no means least, our approach to digital transformation is intensely end-user focused. It centers on close observation of how a person works, on the pains a worker deals with daily, on the workarounds every employee devises to get the job done, on their thoughts about what works, what doesn't work, what might work, and what will never work.
Many important questions remain, but by working together on their company's digital strategy, business and IT leaders can avoid the pitfalls of shadow IT, ensure that results come faster and have greater impact, and lay a solid foundation upon which to build further transformation.
Contact AST today to learn how our Oracle Cloud experts can accelerate your transformation journey!