2018 Cloud Predictions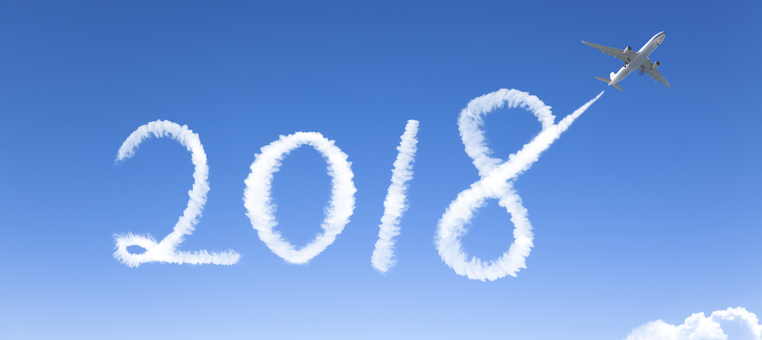 As the primary driver for cloud adoption shifts from economics to innovation, leading-edge companies are stepping up their investment in cloud services to accelerate their digital transformation and lay the foundation for re-imagined business processes and new competitive offerings.
Today's cloud in its many forms — PaaS, SaaS, IaaS, public, private, hybrid — is the cornerstone of enterprise IT transformation. Recognizing that they must accelerate their digital transformation initiatives or face being left behind, Oracle customers are exploring, developing and implementing myriad cloud solutions at breakneck speed, marking 2018 and the years to follow as a make-or-break period for companies of all sizes and across industries.
Cloud Spending Soars in 2018 (and beyond)
Here is a roundup of recent predictions by industry experts on cloud spending and adoption:
According to a Forrester report, clients stated that they plan to move as many as 80% of their applications to the cloud over a five-year timeframe.
Gartner predicts the worldwide public cloud services market will grow 18% in 2017 to $246.8B, up from $209.2B in 2016.Infrastructure-as-a-Service (IaaS) is projected to grow 36.8% in 2017 and reach $34.6B. Software-as-a-Service (SaaS) is expected to increase 20.1%, reaching $46.3B in 2017.
Cloud computing spending grew at 4.5 times the rate of IT spending since 2009 and is expected to grow at better than 6 times the rate of IT spending from 2015 through 2020,according to IDC, who also predicts that worldwide spending on public cloud computing will increase from $67B in 2015 to $162B in 2020 attaining a 19% CAGR.
By 2018, at least half of IT spending will be cloud-based, reaching 60% of all IT infrastructure, and 60–70% of all Software, Services, and Technology Spending by 2020, according to IDC.
Migration to the cloud is not a question of 'if 'but a complex riddle comprised of when, what, which order, how much and what flavor. There is no cookie-cutter template for cloud migration — each organization must map out a holistic, strategic plan for migration that best suits their specific IT needs and business goals.
For more on cloud migration strategy, read "The Cloud is Your Future – Are You Ready?"
 Cloud ERP
Legacy, on-premise ERP has become too costly, complex and incompatible with the transformational goals of present-day companies. By all accounts, cloud ERP is mature, proven and rapidly approaching critical mass.
IDC forecasts the SaaS ERP market will reach $23.8B in 2018, attaining a 17.2% CAGR in the forecast period.
By 2020, IDC maintains, 40% of large organizations will have at least 60% of their ERP applications in the public cloud.
According to MarketsandMarkets, the cloud ERP market size is estimated to grow from $18.52 billion in 2016 to $29.84 billion by 2021, at an estimated CAGR of 10.0%.
According to a 2017 report by Forrester, "[For ERP] the shift to SaaS will accelerate over the next three years and become the preferred deployment option for many types of businesses. For large enterprises, adoption will be more restrained near-term, but solutions are maturing quickly, and we will see significant adoption at scale for complex businesses within five years."
According to a recently published global cloud ERP market report by RnRMarketResearch.com the industry grew at a CAGR of approximately 6.38% during 2011-2015 and is anticipated to grow at a CAGR of 8.30% during the forecasted period 2016-2021.
For more on cloud ERP, read "The Cloud ERP Imperative – Transform the Core or Suffer Disruption"
 Cloud BI/ANALYTICS
Moving analytics to the cloud satisfies scalability and performance requirements, makes it easier to incorporate new and improved user interfaces, enables faster and more efficient information sharing, eases integration of data from other sources, and dramatically speeds up development cycles for new analytic applications.
Check out what industry pundits are saying about the cloudy future for analytics:
IDC predicts that by 2018, new cloud pricing models for specific analytics workloads will drive up to 5 times higher growth in spending on cloud versus on-premises analytics solutions.
Gartner expects the majority of new analytics licensing buying to be for cloud deployments by 2020.
According to MarketsandMarkets, the cloud analytics market is expected to grow from $7.5 Billion in 2015 to $23.1 Billion in 2020 at a CAGR of 25.1% during the forecast period.
Technavio's market research analysts predict the cloud analytics market to grow at a CAGR of approximately 21% until 2020.
For more on cloud BI/Analytics, read "Analytics for the Masses."
 Cloud EPM
Like all core enterprise applications, migrating EPM to the cloud is rapidly becoming mainstream.
The top reason for moving EPM to the cloud, according to a recent Oracle survey, is to reduce IT infrastructure cost (49%). The second most-cited reason (42%) is to avoid an on-premises upgrade, with the desire to take advantage of new features available in the cloud, specifically, social/mobile/analytic capabilities, taking third (25%), according to the survey.
Strong spending on cloud EPM is predicted over the years ahead:
According to Forrester, cloud deployments will replace most EPM implementations in the next five years.
Of the 400+ organizations recently surveyed by Oracle, 74% have now, or will have within 12-24 months, one or more EPM processes in the cloud.
According to a recent survey commissioned by Host Analytics and conducted by Radius Global Market Research, 41% of respondents currently have a cloud-based EPM solution, 29% are evaluating them, 23% plan to move to the cloud in the next few years, 5% are planning to move to the cloud in the next two to three years, and only 2% reportedly have no intention to move to the cloud.
According to a recent research study conducted by BARC and US-based research firm Eckerson Group, while most organizations have already moved their reporting and dashboarding (76%) and ad hoc analysis (57%) into a cloud environment, the highest demand for cloud deployments can be seen in Corporate Performance Management use cases: Advanced and predictive analytics (53% planned), operational planning/forecasting (44% planned), and strategic planning/simulation (44% planned).
For more on cloud EPM, read "Cloud EPM – What CFOs Want."
 Cloud HCM
Employers are moving away from legacy point solutions that primarily serve employers to omni-purpose, cloud-based HCM systems designed, first and foremost, to meet the needs of digitally savvy employees. The shift is toward tightly integrated, multi-faceted, cloud-based systems that incorporate recruitment, on-boarding, learning and continuous performance management — all in one place.
The global cloud HCM software market is set to soar in the years ahead:
More than half of all enterprises will rely on cloud-based or hybrid solutions for their human resources systems by 2020 – more than double the number that do today, according to ISG Insights. By 2020, more than 75% of companies expect to have migrated at least one HR system to the cloud, ISG finds.
As reported in a recent Forbes Insight study, a survey of 798 HR executives from across the globe conducted by KPMG finds 40% intend to replace their existing, on-premises HR system with a SaaS solution in the near future. Specific HR functional areas ripe for cloud adoption include benefits administration (40%), HR analytics (32%), talent review services (32%), time reporting services (32%) and core HR functions (30%).
For more on cloud HCM, read "Not Your Father's Talent War."
 Cloud CRM
Today's digitally savvy consumer is well connected, well informed and extremely empowered.  At ease navigating multiple sales channels and confident in conducting real-time research on competitive offerings, consumers demand convenience and have no tolerance for individuals or organizations that waste their time or money. Modern consumers have set the bar high for seamless, personalized, and immediate experiences.
The cloud offers a smarter approach to customer experience so businesses can meet and exceed the skyrocketing expectations of their customers. Here's just a few expert predictions on cloud CRM spending:
A forecast from Gartner anticipates that, driven by cloud service revenue, the CRM market will be worth over $40 billion in 2018.
According to IDC, by 2018, 62% of CRM software will be cloud-based.
The global CRM market is projected to reach $48.4 billion by 2020, with the U.S. representing the largest regional market worldwide, according to Global Industry Analysts.
For more on cloud CRM, read "Customers Demand Omni-channel Excellence."
 Cloud Managed Services
Given the urgency, complexity and skills shortage surrounding cloud migration, an increasing number of businesses are looking to services providers with the requisite expertise, experience and resources to guide their cloud migration strategy, host their applications and provide the end-to-end managed services needed to accommodate dynamic business requirements and aggressive growth goals.
Pundits concur on the strong and growing market for cloud managed services:
MarketsandMarkets predicts the cloud managed services market size is estimated to grow from $35.54 billion in 2016 to $76.73 billion by 2021, at an estimated CAGR of 16.6%.
A study conducted by 451 Research (as reported in Forbes) finds that 64% of IT leaders predict they will buy cloud management platforms from service providers in 2017, and 57% of IT leaders expect to partner with Managed Service Providers (MSP) and Managed Hosting Providers (MHP) for both hybrid cloud and multi-cloud initiatives.
For more on cloud managed services, read "Managed Services for the Digital Era."
 Cloud Security
Traditional perimeter-based security tools do little to protect cloud workloads. Securing data and applications that reside in the cloud is increasingly critical as more mission-critical apps and high-value data and intellectual property move to the cloud. Accordingly, experts predict strong spending on cloud security over the years ahead:
Growth in worldwide cloud-based security services will reach $5.9 billion in 2017, up 21% from 2016, and will reach close to $9 billion by 2020, according to Gartner.
MarketsandMarkets expects the cloud security market to grow from $4.09 billion in 2017 to $12.73 billion by 2022, at a CAGR of 25.5%.
The cloud security market will grow from $1.5 billion in 2017 to $3.5 billion in 2021, according to Forrester.
For more on cloud security, read "Every CEO/CIO's Worst Nightmare."
 Oracle and AST – delivering today's cloud
Customers in 195 countries are running their most demanding applications on the Oracle Cloud Platform, and organizations worldwide are turning to Oracle at record-rates to build, deploy, and extend game-changing applications and run business-critical workloads in a low-latency, highly available, reliable and secure cloud environment.
To help the company sustain momentum in what is already the world's fastest growing multi-billion dollar cloud business, Oracle and Oracle partners such as AST will have to redouble their effort and investment in helping companies of all sizes and across industries step up their cloud migration initiatives.
For our part, AST has made significant investments in becoming an Oracle cloud leader. AST has been a pure-play Oracle services partner since our founding in 1995. We are an Oracle Cloud Premier Platinum Partner, and more than 90% of our workforce is cloud certified. With more than 300 successfully completed Oracle cloud projects under our belt, AST is proud to be a trusted partner helping our customers navigate the transition to the cloud — from development of an internal cloud strategy and framework, to full implementation and, ultimately, to post-deployment support and managed services.
Contact AST today to learn how our Oracle Cloud experts can help your organization embark on or accelerate your cloud migration journey.