5 Things CIOs are Thankful For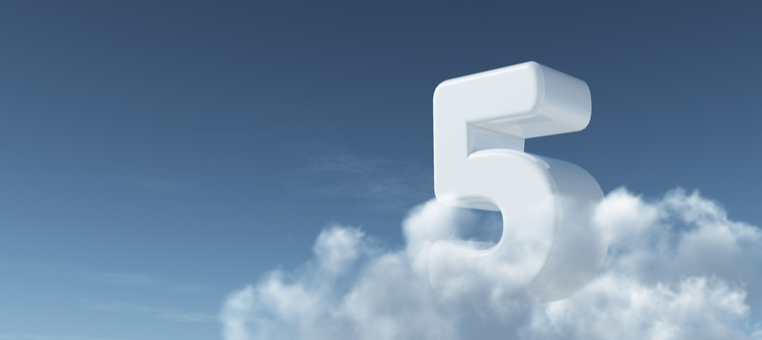 CIOs and cloud-rush angst
CIOs tasked with migrating their organization's many applications to the cloud are feeling the pressure. For many, issues such as unexpected costs, interoperability, security gaps, unanticipated application rework and lack of visibility and control are creating significant obstacles.
Mistaking mandate for strategy, many organizations, too many, rushed into the cloud pell-mell with 'shadow IT' initiatives, where line-of-business leaders provisioned point solutions from external cloud providers without consulting IT, leaving CIOs to deal with potential security breaches, data-governance issues, multiple contracts, varying SLAs and runaway cost and complexity.
As CIOs run out of cloud quick wins — non-mission-critical apps such as web service tools, email/collaboration tools, app development/testing environments, etc. ­— they begin to realize (somewhat painfully) that prevailing cloud-first orthodoxy is not quite the cost-and-complexity panacea they had hoped it would be.
Instead of realizing the promised benefits of cloud computing (lower costs, increased flexibility, faster delivery, etc.), many are burning time and resources establishing data governance, building bridges that connect their various cloud solutions and integrating their cloud solutions with existing, core on-premise systems to facilitate faster and more efficient process orchestration. Demonstrable ROI on the cloud is becoming increasingly elusive, and the closer CIOs get to mission-critical applications such as ERP, the more hesitant they are to pull the cloud-migration trigger.
Oracle (and AST) to the rescue!
Cloud computing has been the most exciting and disruptive force in the tech market in the last decade — and it will continue to disrupt traditional computing models through 2020 and beyond.
With the primary driver for cloud adoption shifting from economics to innovation, leading-edge companies are stepping up their investment in cloud services to accelerate their digital transformation and lay the foundation for re-imagined business processes and new competitive offerings.
CIOs feeling overwhelmed by the blistering pace and vast scope of cloud adoption should take comfort in knowing that they are not alone. Most respondents to a new Fugue survey of more than 300 IT operations professionals, executives, and developers believe that the cloud is not living up to expectations. Only 1 in 5 surveyed say they are getting "the most" out of the cloud, while 80% feel they are failing to do so.
In the spirit of the Thanksgiving season, we've compiled a list of the top 5 things CIOs can be thankful (to Oracle) for as they embark upon or accelerate their cloud journey.
1. Oracle's Complete Cloud
By far the most comprehensive set of applications in the cloud available from any vendor in the world, Oracle Cloud includes complete suites for ERP, CRM, HCM, SCM, CX, IoT and Analytics. With deployment options ranging from the public cloud to your private data center, Oracle provides cloud services across Software as a Service (SaaS), Data as a Service (DaaS), Platform as a Service (PaaS), and Infrastructure as a Service (IaaS). Oracle has invested many years and billions of dollars in R&D and strategic acquisitions to offer the most comprehensive, modern, flexible, and secure cloud on the planet. Oracle re-engineered its entire product line for the cloud. Moreover, from the ground up and covering the complete stack — database, middleware, applications, network, etc., all components of the Oracle Cloud are engineered by Oracle to ensure seamless interoperability and peak performance.
 2. Migration Options (and incentives)
Customers want to migrate to the cloud at their own pace and in a strategically sound manner that aligns with their unique business needs and growth goals. For most, this means a hybrid mixture of on-premise and cloud (public and private) applications. By offering the broadest array of cloud applications and covering all delivery models (SaaS, PaaS, IaaS, and DaaS), Oracle provides customers the flexibility and choices they need in mapping out a cloud migration strategy that works best for them.
Oracle cloud solutions are designed for incremental cloud adoption, which lets customers move to the cloud at their own pace in phases that fit their business model and operational needs. To help make the migration process easier and faster, existing on-premise customers can leverage Oracle's Customer 2 Cloud Program which enables them to use current support spend to redirect elements of their installed on-premise solutions to Oracle Cloud. For companies and government agencies required by law or regulatory constrictions to keep data on site, Oracle's Cloud at Customer program provides all of the features, benefits and pricing of cloud delivery via a "cloud machine" that lives in the customer's data center.
3. Integration Ease
Connecting cloud applications with on-premise systems, as well as with other, disparate online apps, can be complicated by many factors, including standards and protocols, gateways and firewalls, and issues with multi-tenancy. Oracle Integration Cloud Service (ICS) is a cloud-based integration application designed to perform integrations between cloud-based applications – but also has capabilities that extend beyond that, to performing integrations with your on-premise applications. ICS simplifies how you build integrations in the cloud, letting you connect securely to applications and services both in the cloud and on-premises. Features include: An environment pre-loaded with connections to all Oracle SaaS applications you have subscriptions to; best-in-class SaaS adaptors to accelerate integration with your cloud assets; and a simple and extensible architecture for creation of new adapters.
 4. Security Covered
A longtime leader in information security, Oracle's security solutions align people, process, and technology with integrated, defense-in-depth security features at every layer of the computing stack, providing a complete approach to security that incorporates preventive, detective, and predictive controls, along with artificial intelligence and machine learning to enable actionable security intelligence. At Oracle OpenWorld, Oracle announced the first Autonomous Database Cloud for data warehouse workloads. The solution eliminates human labor (and error) associated with tuning, patching, updating and maintaining the database, delivering unprecedented availability, performance, and security. Oracle's complete, integrated, next-generation identity management platform provides breakthrough scalability with an industry-leading suite of identity and access management (IAM) solutions for on-premises or hybrid cloud, and Oracle's Identity-based Security Operations Center (SOC) framework provides comprehensive monitoring, threat detection, analytics, and remediation tools across hybrid environments that include on-premises and cloud resources.
5. Partner Power
AST has made significant investments in becoming an Oracle cloud leader. AST has been a pure-play Oracle services partner since our founding in 1995. We are an Oracle Cloud Premier Platinum Partner and more than 90% of our workforce is cloud certified. Most recently, AST was recognized by Oracle as an Oracle Cloud Managed Service Provider (MSP). The Oracle Cloud MSP program recognizes AST as a partner with the skills and expertise to build, deploy, run, and manage the Oracle Cloud Platform for both Oracle and non-Oracle workloads. The program enables AST to offer a complete managed service solution for Oracle Software as a Service (SaaS), Oracle Infrastructure as a Service (IaaS), Oracle Platform as a Service (PaaS) and DevOps management on Oracle PaaS.
With more than 300 successfully completed Oracle cloud projects under our belt, AST is proud to be a trusted partner helping our customers navigate the transition to the cloud — from development of an internal cloud strategy and framework, to full implementation and, ultimately, to post-deployment support and managed services.
Contact AST today to learn how our Oracle Cloud experts can help guide and manage your organization's cloud migration journey.