The Cloud is Your Future – Are You Ready?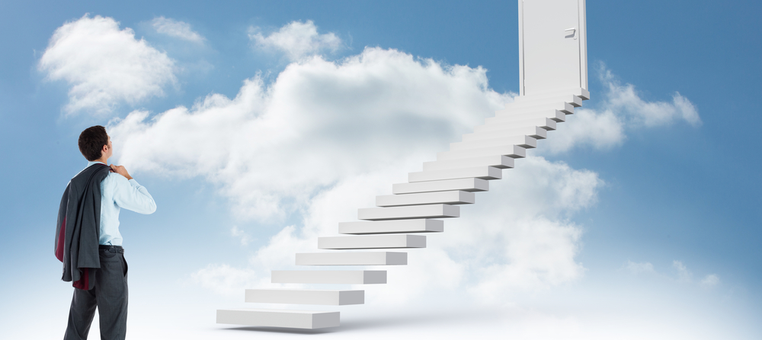 Migration to the cloud is not a question of 'if 'but a complex riddle comprised of when, what, which order, how much and what flavor. There is no cookie-cutter template for cloud migration — each organization must map out a holistic, strategic plan for migration that best suits their specific IT needs and business goals.
Cloud Spending Soars
There is no denying it, the cloud is here, and cloud adoption rates will continue to accelerate over the coming years. Here is a roundup of recent predictions by industry experts on cloud spending and adoption:
According to a Forrester report, clients stated that they plan to move as many as 80% of their applications to the cloud over a five-year timeframe.
Gartner predicts the worldwide public cloud services market will grow 18% in 2017 to $246.8B, up from $209.2B in 2016.Infrastructure-as-a-Service (IaaS) is projected to grow 36.8% in 2017 and reach $34.6B. Software-as-a-Service (SaaS) is expected to increase 20.1%, reaching $46.3B in 2017.
Cloud computing spending grew at 4.5 times the rate of IT spending since 2009 and is expected to grow at better than 6 times the rate of IT spending from 2015 through 2020,according to IDC, who also predicts that worldwide spending on public cloud computing will increase from $67B in 2015 to $162B in 2020 attaining a 19% CAGR.
By 2018, at least half of IT spending will be cloud-based, reaching 60% of all IT infrastructure, and 60–70% of all Software, Services, and Technology Spending by 2020, according to IDC.
The Cloud is No Panacea for Complexity
Cloud computing has been the most exciting and disruptive force in the tech market in the last decade —and it will continue to disrupt traditional computing models through 2020 and beyond.  Migrating the core applications that power your organization's vital business processes is a highly complex process fraught with difficulties, and should not be embarked upon lightly.
Serious questions (and confusion) abound when it comes to:
Which business applications are appropriate for the cloud;
The order in which applications should be ported to the cloud;
Which applications will require redesign and which can be moved as-is to provide quick return;
Which platform is most appropriate for each business application;
What integration work will be needed to ensure that applications, systems and processes operate well together;
What security and compliance concerns should be addressed; and
How to avoid disruption of day-to-day operations during the migration process.
On-premise apps and cloud-based apps are not apples-to-apples. Cloud workloads must be designed to run on the cloud. A thorough evaluation of the workloads and the components in the application stack is required before selecting an app for cloud migration.
Last, but not least, there's the very large question of which vendor or vendors' cloud solution(s) you should adopt. Be certain that the cloud solutions you select are mature, proven for your business and industry, and will continue to evolve and be supported in the years ahead.
A Hybrid (On-premise & Cloud) Model is Probably in Your Future
Public clouds serve an increasing number of use cases for enterprises today, both for net-new applications and for migrating pre-existing workloads. Despite this peaked interest, for many companies the enterprise data center and certain on-premise applications are not ready or ideally suited for porting to the cloud.
The hybrid model — which integrates on-premise and cloud-based applications (private cloud or public cloud or both) — is emerging as the de facto standard for enterprises today. It is uniquely suited to help businesses redesign their IT operations in a strategically sound way that solves the cloud-migration riddle while protecting and extending existing IT investments.
Analysts and experts agree that the end-state of the current digital revolution is an architecture heavily supporting the hybrid model — an architecture that facilitates non-disruptive cloud migration and enables organizations to deliver applications and vital services through a combination of seamlessly integrated private clouds, public clouds and on-premise systems.
Here's a sample of predictions on the future of the hybrid model:
As reported in Network Computing, nearly half of large enterprises will have hybrid cloud deployments by the end of 2017, according to Gartner.
According to the 5th Annual Cloud Survey conducted by North Bridge in 2015, hybrid cloud use is expected to double in two years.
According to IDC FutureScape: Worldwide Cloud 2016 Predictions, more than 80% of enterprise IT organizations will commit to hybrid cloud architectures by 2017.
 Oracle's 'All-in' Cloud Game
Despite the claims of uninitiated analysts and media types, Oracle is not new to (or late to) the cloud game. Those who have been around Oracle long enough may remember deploying Oracle applications to an Internet browser back in the mid to late 90s (e.g., Forms Server).  Also, there was "Oracle Outsourcing" (circa 2002) an off-premises solution based in Austin, Texas, renamed "On Demand" in 2004. It was 2008 when Larry Ellison, Oracle's CEO for 37 years, bemoaned that "Cloud Computing" was a fashionable name for what Oracle was already doing – but enough on marketing semantics.
Oracle officially entered the public cloud space with the launch of Oracle ERP Cloud and Cloud HCM products in 2012. Today, after years of intense work and significant investment, the Oracle Cloud offers complete SaaS application suites for ERP, HCM and CX, plus best-in-class database Platform-as-a-Service (PaaS) and Infrastructure as a Service (IaaS) from data centers throughout the Americas, Europe and Asia.
From 2012 to the present, Oracle's traction on the cloud front has been nothing short of spectacular. In 2016, Oracle sold $2.9 billion in cloud annually recurring revenue. As reported by Oracle in it's Q4 2017 financial results, released in June, total cloud revenues for the year reached $4.7 billion, growing 68%. Oracle reports that SaaS was $3.4 billion, growing 70%, PaaS and IaaS was $1.4 billion, growing 63%.
Customers in 195 countries are running their most demanding applications on the Oracle Cloud Platform, and organizations worldwide are turning to Oracle at record-rates to build, deploy, and extend game-changing applications and run business-critical workloads in a low-latency, highly available, reliable and secure cloud environment.
As reported in ZDNet, Oracle expects roughly 80% of its 400,000+ customers will embrace cloud in the next decade. Oracle Executive Chairman and CTO, Larry Ellison recently stated his strong belief that Oracle has "[…] a fighting chance to be the first cloud company to reach $10 billion in SaaS and PaaS revenue."
To help the company sustain momentum in what is already the world's fastest growing multi-billion dollar cloud business, Oracle and Oracle partners such as AST will have to redouble their effort and investment in helping companies of all sizes and across industries step up their cloud migration initiatives.
For our part, AST has made significant investments in becoming an Oracle cloud leader. AST has been a pure-play Oracle services partner since our founding in 1995. We are an Oracle Cloud Premier Platinum Partner, and more than 90% of our workforce is cloud certified. With more than 300 successfully completed Oracle cloud projects under our belt, AST is proud to be a trusted partner helping our customers navigate the transition to the cloud — from development of an internal cloud strategy and framework, to full implementation and, ultimately, to post-deployment support and managed services.
Special Breed of Service Provider Needed for Oracle Cloud Migration
Service providers that are going to advise and guide you to the Oracle Cloud need to have the following characteristics:
Comprehensive product capabilities: Most companies are breaking up large monolithic applications — Oracle eBusiness ERP, Siebel, SAP, Peoplesoft, etc. — and migrating a few modules to the cloud at a time. Also, several cloud applications they are migrating to are those from acquired companies/products.  This has created a plethora of service providers who provide one-off Oracle Cloud solution capabilities. But when it comes to applications critical to business operations, customers want to work with a service provider who can cover Oracle's complete portfolio of cloud solutions—Oracle Cloud, Oracle ERP Cloud, Oracle EPM Cloud, Oracle SCM Cloud, Oracle HR Cloud, Oracle Customer Experience Cloud, and Oracle Analytics Cloud.
Experience across cloud delivery options: Apart from application expertise, your advisor should be able to help you make a decision that compares a lift-and-shift approach versus a re-implementation with a cloud application approach. This makes it critical to have a partner who covers the entire range of cloud delivery options—public, private, hybrid and the entire 'as-a-service' stack—applications (SaaS), platform (PaaS), infrastructure (IaaS), data (DaaS). Only a true end-to-end service provider can develop the cloud architecture right for your business, presenting an unbiased approach to the cloud based on true expertise and your specific needs.
Integration & data management capability: Given the proliferation of the hybrid cloud model, the growing importance of connecting all core applications — SCM, CRM, HCM, ERP, etc., and the ever-present need to integrate with applications of customers and business partners, a service provider's value proposition stands in direct proportion to their depth of integration expertise. As well as the expertise they bring to you around data management and analytics. As a customer overhauls their IT architecture with cloud applications, the impact on their enterprise data and integration strategy is significant. Proven systems integration experience and the ability to wrest strategy and value from complexity is vital.
Security, security, security: Across the board, data security reigns as the top concern for cloud adoption, with security concerns growing in direct proportion to the mission-criticality of the business app (and the data they contain) migrating to the cloud. Businesses today migrating core processes to the cloud need a service provider that delivers advanced and innovative technology solutions and services that empower clients' business ambition by combining industry insight, IT and applications know-how, and governance/security expertise.
Industry experience: Understanding industry best practices and vertical processes have always been a big value add from a service provider to a customer. And in the cloud world, it is even more relevant since customers are looking for recommendations on which cloud modules can handle the complexity, scalability and functionality of their industry. A service provider delivers enormous value to customer precisely at the intersection of vertical knowledge and a multi-pillar cloud strategy.
Mobile expertise: As mobility cannot be cleaved from the cloud, today's popular mantra 'mobility-first' presupposes a sound cloud strategy. As the applications exposed via mobility extend deeper into core, mission-critical systems, it becomes increasingly imperative that your cloud services provider is as competent with all facets of mobility — infrastructure, app development, user interface, etc. — as they are with cloud delivery, and vice versa.
Research and development: Seek a service provider that has invested heavily in Oracle cloud and related technologies — templates, accelerators, frameworks/methodologies, etc. Your cloud services provider should have a demonstrable history of building and bringing to market industry-specific, out-of-the-box solutions pre-configured with best practices that integrate Oracle and non-Oracle solutions.
Change management expertise: To ensure your organization realizes positive short- and long-term results, make sure your service provider has a deep, understanding of how people and processes will change, and can help you structure a communications and action plan that covers the entire migration process.
Contact AST today to learn how our Oracle Cloud experts can help your organization embark on or accelerate your cloud migration journey.