Transform Your Global Manufacturing Business with CRM and CPQ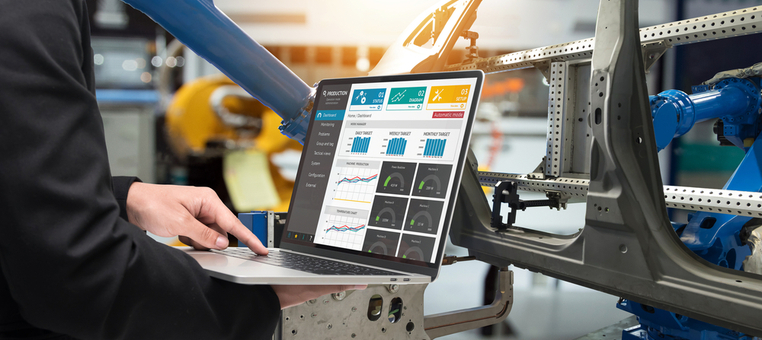 The manufacturing process is replete with complexities. Its operations involve numerous partner organizations, forecasting, complex quoting/pricing rules and inventory management, and post-sales support. The implementation of a Customer Relationship Management (CRM) tool is critical to successfully managing these processes, ensuring accurate data entry and flow through the process stages, and increasing operational efficiencies and transparency.
AST is a leader in the CRM implementation space, with expertise in the Manufacturing industry and proven capabilities to streamline and enhance your business processes. In this article, our experts explain the business value that a quality CRM solution brings to a manufacturing organization.
Partner / Distributor Management
Working with partner organizations requires that your partner portal integrates with a global trade management system to screen all vendors, partners, suppliers, and customers. The distributors' involvement in warehousing and logistics necessitates an outlet to empower your distributors to sell your products by registering deals, negotiating prices, and maintaining product inventory. Choosing a scalable CRM solution with an advanced partner relationship management system, that also provides restricted access to your organization's data, streamlines the management of relationships with external parties.
Forecasting 
Robust tracking of the opportunity pipeline, combined with a strong reporting and forecasting module in your CRM solution, is critical for accurate sales forecasting and essential for all industry types.  CRM becomes even more critical for the Manufacturing industry in leveraging sales pipeline to help with demand forecasting, operations planning, and increased accuracy of inventory orders from suppliers and vendors. Enabling distributor and sales partner access to this information enables all parties to meet business objectives.
Quoting and Pricing
A CPQ (configure, price, and quote) system complements CRM to provide the flexibility to quote and price products based on your industry and organization's downstream manufacturing processes. Having a CPQ system ensures standardized pricing and quotation output across the enterprise. A CPQ system integrated with the Enterprise Resource Planning (ERP) solution allows organizations to incorporate item inventory or manufacturing constraints into the quoting process. Additionally, CPQ can provide multiple views of the same product configuration:  A sales bill of materials (BOM) will allow sales to configure based on customer specifications; a manufacturing BOM supports your manufacturing procurement processes as it acts as an intelligent translator to eliminate errors in order fulfillment. CPQ can even go further and extend itself to initiate the orchestration and sequencing of the manufacturing processes.
The flexibility of the CPQ system allows for the incorporation of manufacturing restrictions into the quoting process, ensuring that manufacturing lead times and batch limits are presented to the customer in the early quoting stages. Similarly, support and warranty agreements can be built into your quoting process, based on the level of support and period of warranty suitable for the customer.
Quoting and pricing strategies vary, depending on the type of manufacturing process employed.
Make-to-Stock (MTS) Repetitive manufacturing, Mass manufacturing, and Batch production
Repetitive and mass manufacturing organizations typically employ customer-based price agreements and volume step pricing. Volume step pricing is a strategy in which customers are given additional discounts based on order quantity thresholds. It is crucial to track quoted quantities versus actual orders because of the broad range of product volumes and extended duration of contracts.  
Since repeat business is common in high-volume manufacturing, capturing historical information regarding pricing and order volumes enables the identification of trends and determination of the appropriate pricing strategy. This data can be leveraged by CPQ to generate AI-driven pricing graphs and indicators during the quoting process.  
Assemble-to-Order (ATO) or Make-to-Order (MTO) Job Shop Manufacturing
Upon the acceptance of a quote or signing of a contract in which multiple subcomponents are manufactured, CPQ triggers the ERP system to initiate the manufacturing processes in the correct sequence.
Engineered-to-Order (ETO) Project Production
Quoting for project production can be extremely complicated. Providing users with the ability to select preset models and configure them further helps to simplify the process and reduce errors in data entry for downstream systems. Revenue and expense/margin rules can be built into the system to decide if a project is worth pursing during the quoting process. Project production typically requires approvals from various stakeholders and design/production departments. In this case, the CPQ system can facilitate routing the approvals through the appropriate departments, based on rules defined by complexity, price, and other determining factors specific to your organization.
Customer Service 
Exceptional customer service is critical in the manufacturing industry, where long-term customer relationships are common.
A solution that tracks all products and services sold to a customer, along with service and warranty agreements, helps to understand the level of support required. The unified tracking of all service tickets, customer escalations, and communications in a single system provides the organization with a holistic view of its customers.
In today's fast-paced, digital world, customers expect service via multiple channels and short response times to requests. Choosing a CRM that provides omnichannel customer support and contact center capability is imperative.
While selecting and implementing a CRM solution for your manufacturing business, consider partner relationship management, quoting and pricing, and service modules, along with a trusted and experienced implementation partner to provide a smooth digital transformation journey. 
Contact us to learn how we have helped Global Fortune 500 Manufacturing companies like Carmeuse, Velan, Inc., and Keysight Technologies adopt CRM and CPQ to streamline their Quote-to-Cash processes.