Ugandan Delegation Visits AST, Cook County Justice Agencies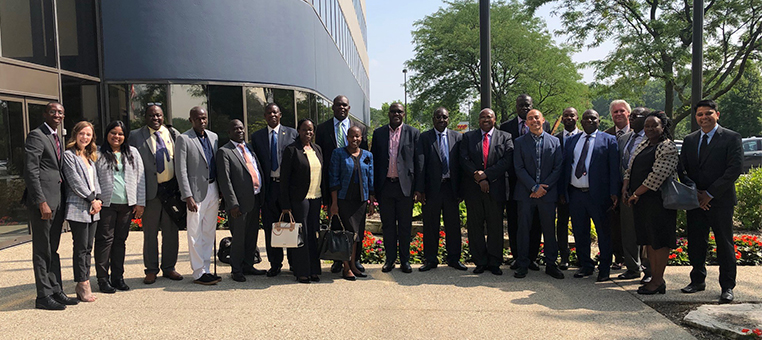 AST had the honor of hosting a 20-person delegation from various branches of the Ugandan Government last week, including a top diplomat and Minister from Uganda's High Court, Inspector General of the National Police, and Commissioner of the National Corrections. Uganda is in the process of modernizing and integrating the IT systems used by its various branches of Justice, and is using AST's successful CJIS Integration Platform at Cook County as the model. Over three days, AST's team conducted a series of Criminal Justice Information System (CJIS) Integration Workshops and tours of Cook County Justice agencies and Chicago Police facilities.
Highlights of the week included a Meet and Greet with AST's executives and CJIS Integration team at AST's Lisle, IL Headquarters on Monday, followed by a welcome luncheon and an overview of the Cook County project, featuring AST's CJIS Integration Platform and Automated Court Reminder System.
The group toured the Cook County Branch 43 Criminal Courthouse and had informative Q&A sessions with County judges on Tuesday, followed by onsite visits to the 9th and 11th District Chicago Police Branches, CPD Headquarters, and Strategic Decision Support Center. The day concluded with meetings with Smart Policing trailblazers Chief Jonathon Lewin and IT Director Steve Maris.
Wednesday's events included a morning workshop, Building a Justice Network, at Cook County's Bureau of Technology, an Executive Luncheon at the Daly Center with the Honorable Clerk of the Court, Dorothy Brown, and concluded with a Cook County Integrated CJIS Committee Panel Discussion with County Justice Agency CIOs and AST Director Daniel DiMarco, moderated by the Honorable Dorothy Brown.
'Thank You!' to the Ugandan government for this fantastic opportunity to share our unique solutions and expertise, and to the Cook County Government and Chicago Police Department for opening your doors and sharing your experience.
Contact AST today to learn more about our expert services and solutions in Justice and Public Safety and Integration.